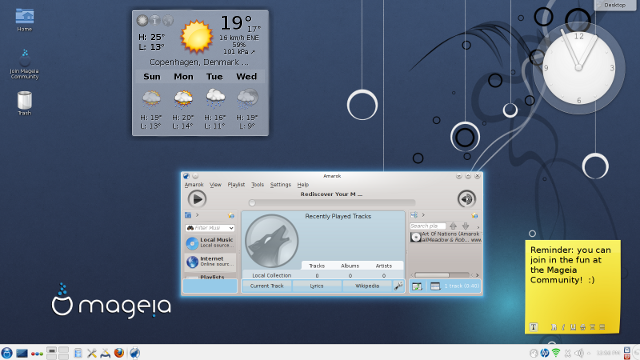 Mageia 3 is a GNU/Linux distribution for your computer, released by the Mageia community.
Kio estas nova?
Too much to include here! See the release notes for an extensive exposé.
Magejo kuntekste
Mageia is both a Community and a Linux Distribution, with Mageia 3 being our third release.
Ekde la publikigo de Magejo 1, nia propono estis ĉiam en la listo de la 10 plej popularaj distribuaĵoj de Distrowatch.
Mageia 3 is supported by the Mageia.org nonprofit organisation, which is governed by a body of recognized and elected contributors.
Mageia 3 has been made by more than 100 people from all around the world.
Nia laboro aldoniĝas al la bonega laboro de la pligranda linuksa kaj liber-programara komunumo. Ni celas havigi la plej bonajn, stabilajn, sekurajn kaj ĝueblajn spertojn kaj platformojn kiel eble; por normalaj uzuloj, programistoj kaj entreprenistoj.
Ni bonvenigas novajn kontribuantojn al iu el la pluraj malsamaj teamoj kiuj konsistigas la Magejan Komunumon, do ni kuraĝigas vin aliĝi.